Start Thinking About Your Summer Convertible
Thinking About Convertible Season
Although winter is slowly approaching it is never too early to start thinking about the summertime. You can almost picture yourself driving down the highway wind in your face without a care in the world. But what car will you be driving to achieve that imagination? It's time to start thinking about purchasing a convertible. Good thing that Ultimo Motors has a nice selection of convertibles to choose from.
Ultimo Motors carries all type of luxury car brands and only carry the best. To help you choose which convertible to buy, we are going to compare two. Two very popular convertibles are the Porsche 911 and the Chevrolet Corvette and we are going to compare them.
Porsche 911 Turbo
At Ultimo Motors we have the 2017 Porsche 911 Turbo. This car is an absolute beauty to say the least. It has the all new turbocharged engine that is extremely powerful but also economical. The inside of the vehicle is just marvelous, luxury radiates from the seats of the 911. THe possibilities are endless in all the customizations you can get with these vehicle. The customizations alone will make you feel special as if you made the car yourself.
Chevrolet Corvette
We also have the 2016 Chevy Corvette which is bound to blow your mind when you get in the driver's seat. This car has amazing V8 power so you know that you will be going fast in no time.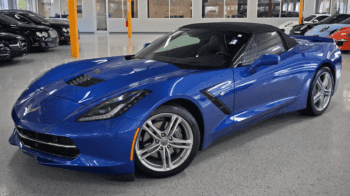 The corvette is also very high tech and has very nice interior so when you get on theinside it looks just as nice as the outside. The price is also exceptional for everything that gets offered. But if you plan to make customizations you will definitely be able to make it just how you like it.
What They Have
Porsche 911

VS.
Chevy Corvette

540 HP

E

ngine Power

455 HP

Flat 6

Engine Configuration

V8

20/29 MPG

Fuel Economy (City/Highway)

17/29 MPG

5.7 cu. ft

Cargo Space

10 cu. ft.
Results
Both cars will be a great addition to your summer cars and they will look absolutely fabulous in the driveway. If you're looking for a great convertible that is reliable and pretty, you have two really great options to choose from. But don't forget, Ultimo Motors has more options for convertibles. Your summer will not be complete without one of these cars, so keep this in mind when you are looking for that new car in a few months. Sometimes you deserve to treat yourself a little extra.