Solar Charging is the Future
Every year car brands are trying their best to come up with the best and newest technology that will make them stand out. If they can succeed in the next technology what they do next is figure out how to make it economically friendly. We already have electric cars and they were a great addition to our lives. Being able to charge up instead of gas up. But now Hyundai and Kia are trying to change the world by bringing solar charging for cars.
What's In Store
They plan to change the way a car is charged by having the emerging technology to charge the car's battery by either the body or the roof's solar panels that will be added. They are also considering installing a translucent solar roof. This is all in hopes of reducing the carbon dioxide that is usually caused by cars in the air.
How It Will Work
They plan to make the charging systems have a solar panel, controller and a battery. Depending on the weather conditions, electricity will be produced when sunlight hits the panels. The panels will have a 100W solar panel and will produce 100Wh of energy per hour. The controller will control voltage and current so that it can increase efficiency of the electricity.
All of the electricity that is gathered is then transformed to a standard voltage and stored in the battery. This is a great idea and Hyundai and Kia have thought about this very hard and have made multiple generations for their roof charging systems.
The Generations
The very first generation is to be added onto a roof system. It can be applied to hybrids and the roof mounts are silicon solar panels. These panels charge 30-60 percent of the battery per day, depending on weather and environment.
The second generation has a transparent roof system and fits a panoramic sunroof, which is a great way to relax in the backseat while driving. You can still enjoy the view of the sky while charging your car and driving.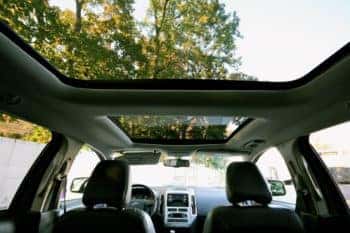 Ultimo Motors
Ultimo Motors stays consistent with the trends because we are constantly updating our inventory. We get some of the best luxury car brands that have the most updated technology so our customers can stick with the times. We offer great prices for great quality cars. Come into one of our four locations to check out our inventory.