Say Thanks To Your Car This Season
Your car has been there for you through all the seasons, tackling every rain storm, strong winds and cold winters. You've taken it for long drives, short rides around the block and everything in between. It has carried your friends, family, groceries and shopping bags. For all it has done for you it is time to say thanks to your car.
Check Air Pressure
When the temperature drops so does the air pressure in your tires. So say thanks to your car this season by making sure the air pressure is just right. For every change of 10 degrees the air pressure in your tires drop 1 psi. A low tire pressure will lead to flat tires, which will slow down your day. So say thanks to your car by making sure the tire pressure is right, it will help you out too.
Oil Change
Check if you're due for an oil change, this is the best way to show your car some appreciation. Just check your mileage and see if you're due for an oil change. While you are checking for that you can also check on your brakes, wiper fluid and everything else. Doing this before it gets too cold out will help you out and your car because finding a garage if you don't have one already can get rough. So while the leaves are still on the ground, before the snow starts to fall down, do a quick maintenance check on your car.
Tire Rotation
Changing the position of your vehicle's tires periodically can lead to several benefits. Having each tire work in several different positions allows for even tire wear. Don't forget to also get your tires balanced to decrease vibrations in the steering wheel. Between 3,000-7,000 miles is a good indicator of when you should get your tires rotated and wheels balanced.
Clean, Clean, Clean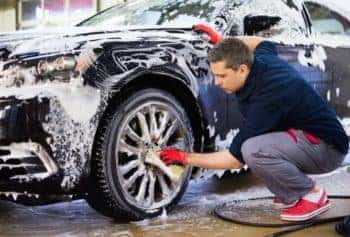 The absolute best way to say thanks to your car is giving it a good ol' wash. A wash from top to bottom and inside will have your car smelling fresh and looking even better. Scrub the interior and vacuum the floors, this will be the ultimate wash of washes.
And while you're car is getting it's scrub a dub dub on, you should also fill up the thank. If your car looks good, you'll feel good. It's a proven fact.
Completing all these things right before the winter comes is the best way to show your car some extra TLC and thank it for all it does.
Check out Ultimo Motors for all the best car essentials. We have multiple locations spread out throughout the Chicagoland area.