November Spotlight at Ultimo Motors
This month at Ultimo Motors we received a lot of amazing cars and we loved each and every car we got. Every month brings the opportunity for more cars and more diversity to bring into our showroom. This November spotlight we are admiring the beautiful cars that we took under our wing and are now selling at great prices. Take a look at some  cars we got this month and check out all the features they offer.
2017 Maserati Levante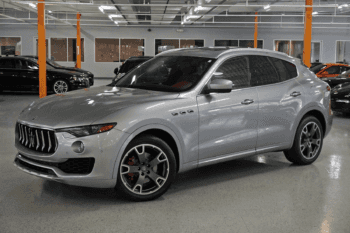 This Maserati SUV is a one of the kind. It comes with a drivers assistance and luxury package. It also came with a beautiful panoramic roof that gives off the feel of being in a convertible while still being covered. This car was delivered to us with 26,000 miles on it and a 14/20 city to highway mpg. This SUV is all wheel drive and has a 3.0 liter twin turbo V6 engine and a horsepower of 345 and an 8-speed automatic transmission. The inside of the car is absolutely beautiful with an exterior of Grigio Metallo metallic and an interior of red with black stitching. All of these packages are an added bonus to the great Maserati Levante.
Driver Assistance Package
Adaptive cruise control

Forward collision warning

Lane departure warning

Surround view camera

Advanced BAS
Luxury Pack
Panoramic roof

Exterior body color moulding

Chrome trunk sill

Premium drilled leather

Ventilated Front Seats

Remote Start and so much more.
The original MSRP of the 2017 Maserati Levante is $89,950.00 and at Ultimo Motors we have it at $56,800.
2015 Porsche 911 4S Targa Top
Everyone loves a convertible, they're the best types of luxury cars out there and here at Ultimo Motors we have the 2015 Porsche 911 4S Targa Top with 7,600 miles on it and the jet black metallic exterior. The engine is 3.8L Flat 6-cylinder and a 400 horsepower. This convertible is all wheel drive and an automatic transmission. This car comes in the premium package plus and many other additions. The sound system is remarkable with a Bose audio system and bluetooth technology you'll be able to listen to all your favorite songs in the best car on the streets.  This phenomenal two-seater is every man's dreams and can be your reality too. The MSRP of this vehicle is $145,340.00 but we have it at Ultimo Motors for $109,800. With such a great deal you can get so many additional packages, you will get a great deal on this car.
Ultimo Motors has a great selection of cars and every month our inventory grows and grows. Stay tuned for what we will have available next month.